Importance Of Proper Succession Planning ….
Recent pandemic Covid 19 has made each one of us learnt that "Life is Uncertain" & "Death is Inevitable". Since out-break of this global pandemic in India in March 2020, every one used to get negative thoughts of losing another near and dear one, the movement he/she used to get a call on his/her mobile. During Ist wave, Senior Citizens were worst hit, however, during subsequent waves young people were more impacted. All this led to sudden surge in demand for Life Insurance, because we always want to ensure that, even after our death, each member of our family should live happily with adequate financial support. Likewise, "Succession Planning" is another important area to secure bright future for each of our family members/ legal heirs. Here are the few major benefits of doing "Succession Planning":
Saves Family From Future Legal Disputes: Gone are the days when India was a pure patriarchal society and head of the family normally used to have final verdict in any type of family matter. Now a days, with rise in education level and access of whole world of information through various search engines like Google etc, each member of a family takes his/her own decisions. Earlier generation gap was considered to be a decade, but now siblings with just 3-5 years gap think in entirely different directions. The situation becomes worst, when discussion about distribution of parental property/financial assets starts within a family. There are millions of such cases which are pending in various Indian Courts. Sometimes, such disputes rise to such a level that leading to Criminal activities among them. Proper "Succession Planning" saves your family from future legal frictions.
Appointment of Executor of Your Choice: An Executor is a person who do everything from closing of bank account to liquidation of assets in your absence. By writing your Will, you can choose and appoint the right person who's not only capable but is also someone whom you trust to carry out these tasks for you. In case of absence of Executor in your Will, the Court appoints a person as Executor and the same person may not be of your choice.
Differentiate Between Nominee and Beneficiary: Nominee is a person who holds your property, in case of your unfortunate death, till the property gets distributed to the ultimate Beneficiaries of your choice. By writing your WILL, you can differentiate between the two.
Appointment of Guardian of Your Choice for Your Kids: In case both parents die, Court appoints a Guardian for your kids. By writing a WILL, you can appoint a Guardian of your choice who can take care of your children's daily needs like food, education, health, clothing, housing etc. in case of your unfortunate death.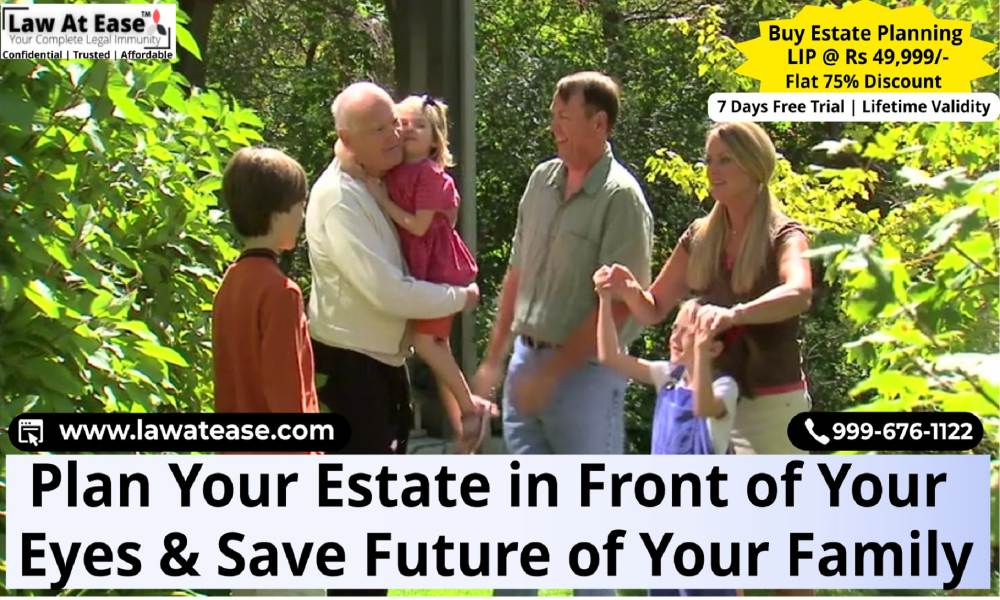 Management of Your Digital Assets: By writing a WILL, you can also appoint someone of your trust who will take care of your digital assets like Facebook, Twitter, Email accounts and digital files like photos, videos, domain names etc. in your absence.
Majority of people who do "Succession Planning", simply prepare their "Registered Will" and keep it with them. Such "Registered Wills" rarely serve their purpose, as majority of these WILLs get challenged by one or other party in Court of Law. It is very important to involve a 3rd party who can take care of your WILL and get it executed in case of your unfortunate death.
Now there is one company in the Market which has come out with solution to all these problems. The name of the Company is Law At Ease having web address at www.lawatease.com. The Company is in legal field for many years but now it has come out with the StartUp dully recognised by Govt of India and Ministry of Commerce & Industry under their Startup India Programme. The company has imbibed the online technology with the legal services and now they are able to provide the legal services to every Business / Individual at their door step. Now you are not required to go a court or Lawyer Chamber for talking and discussing with the lawyer, but once you take services from Law at Ease (LAE), the lawyer will approach you through online technology at your doorstep.
Every Indian Citizen can now do his/her Estate Planning by subscribing to Estate Planning Packages starting @ Rs 49,999/- [One Time Payment for Entire Life].   Subscribers get following services for entire life as part of the package:
Unlimited Expert Legal Advice on Estate Planning: You get 24×7 unlimited life time access to an Expert Estate Planning Lawyer whom you can consult whenever you need. Even after making and getting registered your WILL, you may need to consult with Lawyer on regular basis. Once you subscribe to the Estate Planning LIP of Law At Ease, you need not to pay anything extra for these Expert Lawyer Consultations through-out your life.
Advocate Call on your behalf: Many a times, you need an Advocate who can talk to a 3rd person like your family members or even any outside person to find a solution of a legal problem in your favour. In all such scenarios, Law At Ease provides Advocate who can talk to any 3rd person on your behalf.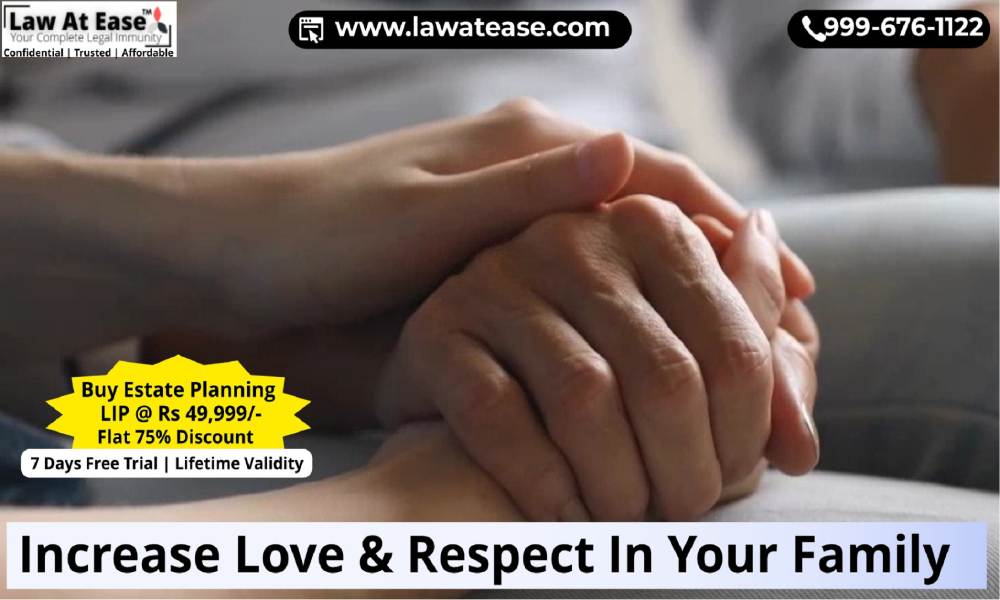 Preparation of Will: At the time of execution of your Will, each word of your WILL is being interpreted, especially in your absence. Thus, it is very important that your WILL should get drafted properly by an Expert Lawyer to avoid any future mis-representation/legal complications. Law At Ease get it done for you by an Expert Lawyer.
Registration of Will: Proper registration of Will is another crucial step of Estate Planning. Law At Ease again get it done for you just by sitting in your home.
Appointment of Executor: You can also appoint Executor of your own choice and trust through the WILL.
Moreover, Law At Ease keeps your Registered Will in safe custody and maintains regular contact with both you and your Executor. In case of unfortunate event of your death, the company get it executed through the Executor and also helps in obtaining the Probate in favour of your Beneficiaries.
So why to wait, give your Spouse and your Kids a gift of safe future even after your death by subscribing to Estate Planning Packages starting at one time payment of Rs 49,999/- by availing 75% flat discount. The Plan comes with 7 days trial period. Thus, after purchasing the plan, if you are not satisfied with services of the company, you can take 100% of money back from the company. Moreover, you also get 24×7 Pan India Lifetime Access to Team of Expert Lawyers whom you can consult in case of your need.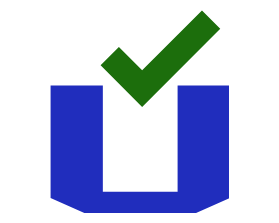 An author of Update UI, We have published more articles focused on blogging, business, lifestyle, digital marketing, social media, web design & development, e-commerce, finance, health, SEO, travel.
For any types of queries, contact us on updateui.info@gmail.com.